Florida ranks amongst the top ten travel destinations in the world. It's not difficult to see why as the sun-drenched state is famed for its subtropical climate, powder white sands, spectacular wetlands, unique shopping experiences and most of all for being home to the happiest place on earth – Walt Disney World.
In Kissimmee Florida, there is another piece of paradise called Cypress Cove. It is the worlds' number one clothing optional resort, and I knew we needed to try it!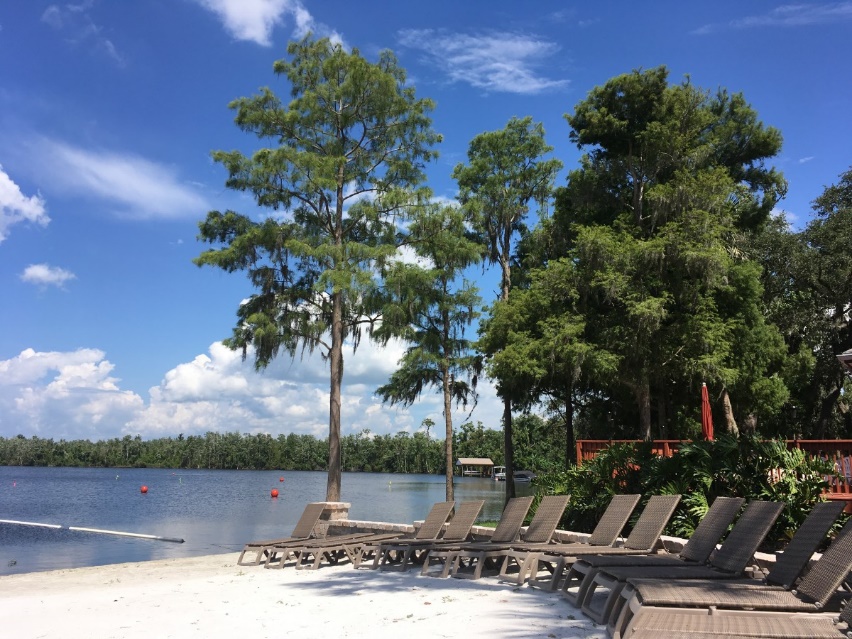 We chose to fly business class via Detroit and checked in with reception around 11 o'clock at night. We could hear the evenings' entertainment somewhere in the distance but given the time difference between Florida and the UK, we were ready for only one thing, a good nights' sleep! There would be no partying tonight!! The following morning, we woke early and made our way to breakfast. Eggs Benedict, pancakes served with maple syrup, crushed blueberries, and freshly percolated coffee were just some of the typical American delights on offer. The young breakfast waitress had her hair piled high and she was dressed in short shorts, a strappy floral top with a matching floral headband and long white socks with emerald green stripes down the sides. She moved swiftly between the tables topping up coffee cups and it crossed my mind that a pair of roller skates might have completed her outfit better than the runners she was wearing.
After breakfast we wandered around the site and soon discovered it consisted of both residential and holiday lets plus an RV Park. Golf carts were a common mode of transportation within the Cove, in fact everyone who lived there seemed to own one. They were also used by the reception staff, maids and maintenance etc. You could even rent them for the duration of your stay. Cute!!
Facilities include two good sized pools, a huge hot tub, a gym, a games room, pickle ball courts, crazy golf, hair salon, nail salon, clothing boutique, entertainment and an additional restaurant and bar bordering the private lake.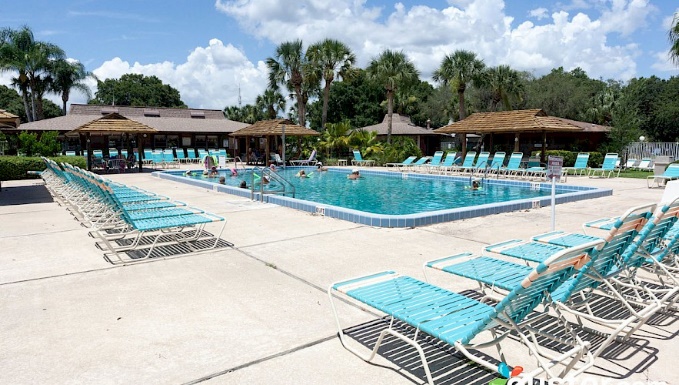 With wetlands being a dominant feature of Florida's landscape, it would have been unlikely not to have found a lake there, so we were not at all surprised. The lake has two small man made beaches complete with sun-loungers, a very nice jetty with a viewing platform and a couple of fire pits dotted around it, and it was beside one of these that we were treated to an impromptu naked guitar session by one of the local residents who sang various songs and ballads to keep us relaxed and entertained.
There are canoes and pedal boats available at the water's edge (free of charge) and as the afternoon sun was still blazing, we took one out.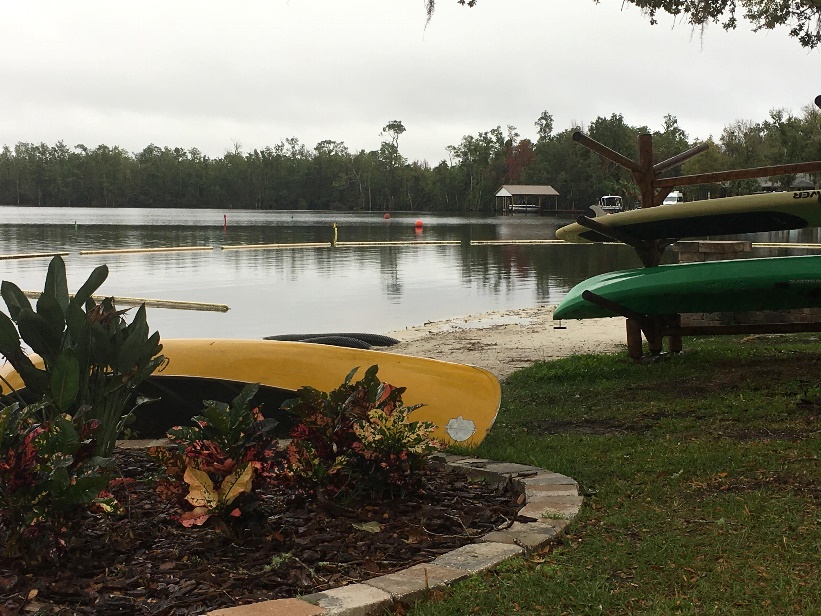 Seemed like a good idea at the time but there were gators in there! I never thought we'd really see one, but we did. He must have been all of five feet long. Just as we approached the far side of the lake, we spotted him sunning himself on the bank.  Our chatting must have disturbed him and with little effort he promptly stood up and slithered seamlessly into the murky water. Alligators have inhabited Florida's marshes, swamps, rivers and lakes for many centuries and choosing to live there means choosing to coexist with them. Apparently, they are removed from the lake at the Cove once they reach around six foot long.
Cypress Cove offers a three week stay for the price of two, so if you're idea of a holiday is to get plenty of bang for your buck whilst still living the au-naturel lifestyle but without paying the prices that the Disney hotels command, then look no further. It's ideal for adrenaline junkies – Hire a Cadillac and take a trip to the Kennedy Space centre, ride a horse over powder white sands, take a high-octane airboat ride, shop till you drop or relive your childhood at Disney. If its peace and quiet, you are looking for then three weeks for the price of two still sounds good. Take a good book with you – and maybe a cowboy hat and a few marshmallows to melt on the fire pit whilst toe-tapping to a good ole tune. Finally, don't overlook this one for a pre or post cruise stay. We previously mentioned that next year marks a landmark 30 years of nude cruising and as a result, there are some very exciting things planned, after all, 30 years' is going to take some celebrating! To see more about Cypress Cove and our nude cruises see the following web pages:
https://www.chalfontholidays.co.uk/wp-content/uploads/2019/06/cypress-cove.jpg
404
600
Chalfont Holidays
https://www.chalfontholidays.co.uk/wp-content/uploads/2017/11/chalfont-holidays-logo1-340x200.png
Chalfont Holidays
2019-06-14 13:10:45
2019-06-14 13:10:47
Cypress Cove – a clothing optional paradise!