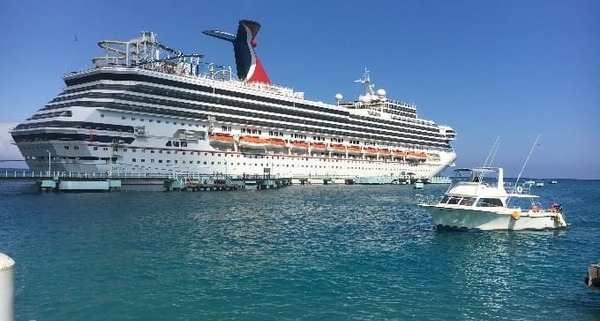 It's always a pleasure to cruise nude and our most recent trip on board The Big Nude Boat – Carnival Sunshine was no exception.
After a smooth flight to Florida and a couple of nights pre-cruise accommodation (there will be another blog about this coming soon), our luggage was loaded into a container at the port and the next time we saw it, it was sat outside our cabin door.  The cabin itself was bright and spacious, well-appointed and conveniently located for the many bars and restaurants on board.
After a good night's sleep, we spent the first day at sea, giving us plenty of opportunity to explore the ship. We were heading towards Half Moon Cay, a private Island in the Bahamas where we took the water shuttle ashore in preparation for the excursion we had booked. It was a difficult choice as there were so many to choose from, but we opted for an eco-tour of the protected lagoon. There were just four of us on this very informative glass bottom boat tour where we saw colourful living corals, giant starfish, sea sponges and schools of tropical fish. The rest of the day we spent on the idyllic nude beach taking in the wonderful views.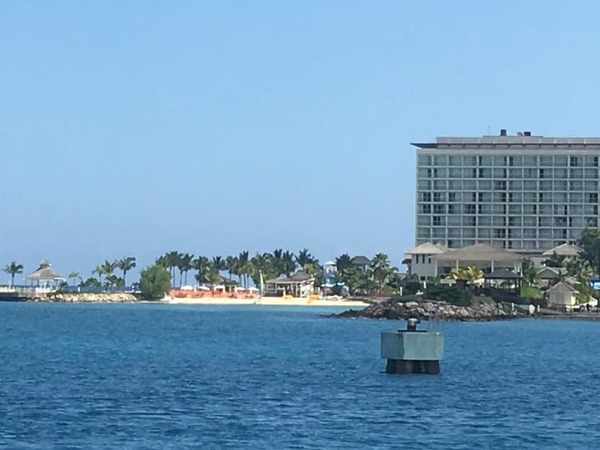 Next stop was Jamaica where we knew we had arrived instantly. Loud and lively music rang out from across the bay where some locals were dancing vivaciously on the deck of a yacht like last night's party hadn't quite ended – and it was only 8.30am! Now that's an introduction to Jamaica!
Time for our next excursion – and whilst we could have taken a Bob Marley bus tour or a trip to the famous Dunn's River Falls as most tourists do, we decided to be even more adventurous and opted for the wet and dirty self-drive buggy tour through 900 acres of woodland. This trip wasn't for the faint hearted but it did live up to its name and was definately fun!
After a quick clean up, we enjoyed a tasty lunch of jerk chicken, plantain and rice and peas. We had certainly worked up an appetite! In the afternoon we headed off to the market where a colourful array of beads, fabrics, handmade Rastafarian hats and local wood carvings awaited us.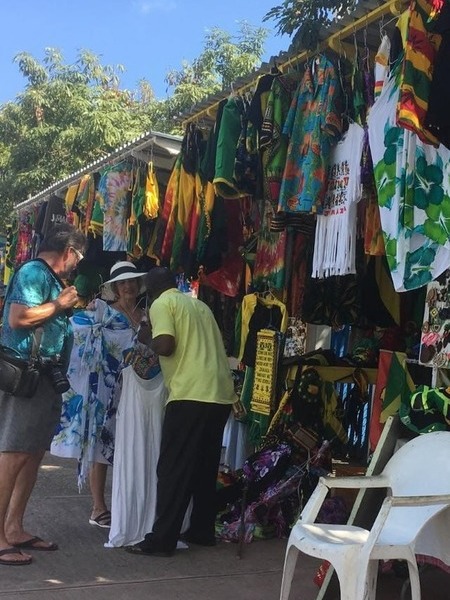 Our next stop was Roatan, Honduras. This Island looked amazing from the ship, so lush and green with half sunken shipwrecks and secluded little bays. A scenic chair lift transported you from the pier to the nude beach for just $14 dollars, and this gave unlimited use all day if you wanted. We chose to make our own way there passing local dancers, musicians and a variety of souvenir shops before settling at a beach bar / restaurant for some well-earned refreshment. Later that day on the way back to the ship we did more shopping!
Between ports of call there were days at sea but there was always plenty to do. There were lectures on acupuncture and photography, life drawing, arts and craft sessions, a talent show, Karaoke, a murder mystery challenge, Mr and Mrs game show, a towel folding competition, line dancing, ice carving, not to mention the on board Casino, Cinema, Comedy Club, Theatre, Sports bar and lounge, spa, gym and on-board shops. And if that still wasn't enough there were swimming pools, whirlpools and water slides.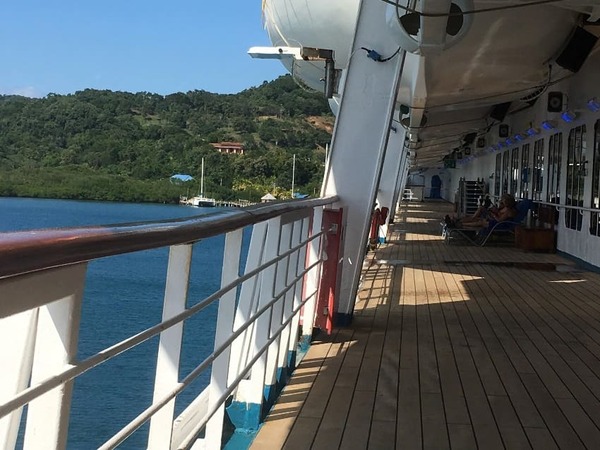 Our last port of call was Cozumel where we were free to do our own thing – we jumped in a local taxi to check out the naturist beach. Once there, the picture postcard scene that met us was so idyllic it almost looked as though it had been photoshopped. To compliment the beach there was a Mexican bar and restaurant with a spattering of souvenir shops and of course – more naked people!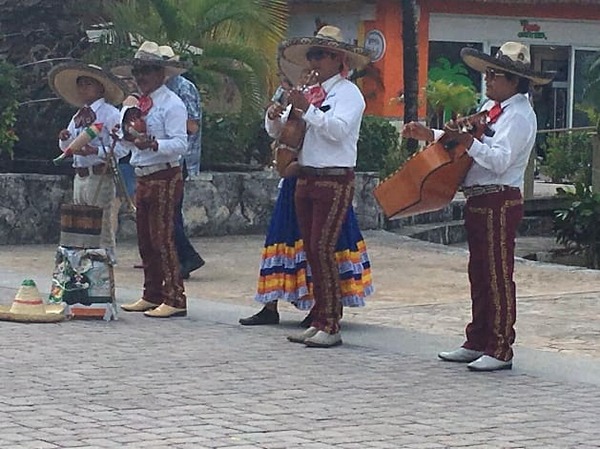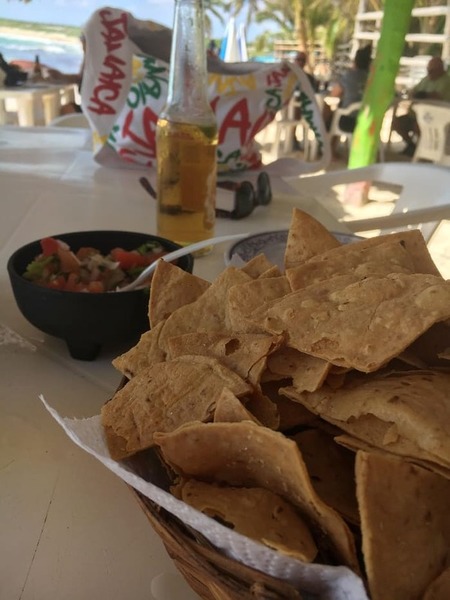 It was a fabulous trip in more ways than one. They beauty of a cruise is that it offers you a one-stop hotel room that transports you from one delightful island to another without the need to even re-pack your toothbrush.
And the question that you probably want to ask is how much nudity is there?  Well there was one main restaurant on board that was completely nude, the other ones required clothes.  Whilst at sea and anchored off shore you could be nude but once the boat was in port you needed to be clothed.  So to summarize it is 'clothing optional' so if you were going on your first nude holiday you would not feel you had to be nude all the time!
If you'd like to join our next naked cruise departing from Tampa in February 2020, give us a call to secure your cabin now. 01753 740176.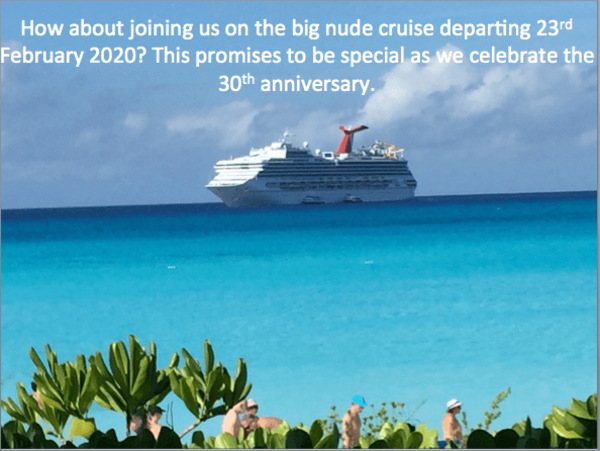 https://www.chalfontholidays.co.uk/wp-content/uploads/2019/04/The-Big-Nude-Boat-1.jpg
450
600
Chalfont Holidays
https://www.chalfontholidays.co.uk/wp-content/uploads/2017/11/chalfont-holidays-logo1-340x200.png
Chalfont Holidays
2019-04-10 17:32:53
2019-06-06 17:32:14
Notes from a Nude Cruise